In recent years, pet food processing has had to develop. Today, pet owners expect the food they feed their companion animals to have the highest possible nutritional quality standards. In addition, the demand for sustainable manufacturing and pet food packaging places new demands on pet food manufacturers. Fortunately, however, technological developments have allowed pet food manufacturers to meet consumer needs through faster and more efficient production lines and environmentally friendly pet food packaging options. As a Pet Food Processing Line Supplier, share with you.

Pet food processing and packaging steps
There are two main types of pet food for cats and dogs: wet food and dry food.
Wet cat and dog food processing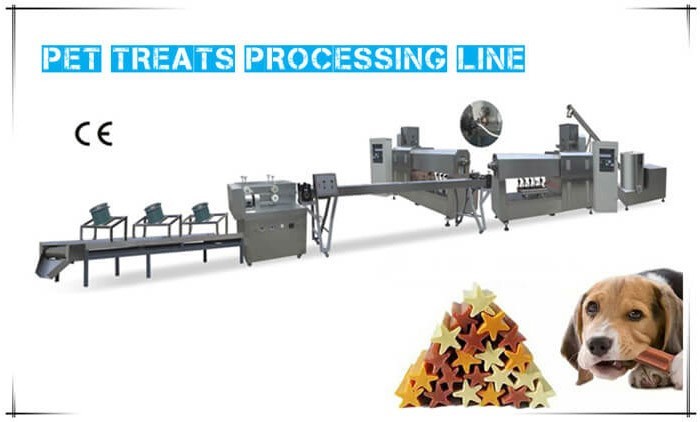 Pet Food Processing Line
First, carefully weigh and measure the ingredients before shredding. This usually includes protein sources (meat) as well as grains of rice and vegetables.
After mixing, the mixture is cooked. There are several different cooking methods for wet pet food, using pet food processing equipment such as heat exchange or steam heating machinery. After this, the mixture may be transferred to another machine for cutting. Next, the food is mixed with gravy or jelly, and then put into a container.
The container is sealed and cooked at a specific predefined temperature, optimizing safety and freshness. Once cooled, in the cooler, the pet food is packaged and ready to be distributed.
Learn more about pet food processing equipment and find suppliers
Dry cat and dog food processing
As with wet food, weighing, measuring, and mixing happen first. However, for dry food, the next stage involves adding water and steam to increase the temperature of the mixture and create a malleable dough.
The dough passes through a pet food processing device called an extruder. In the extruder, is fully cooked—using its own friction and heat in the machine to do this—and then pushed through a template to shape the coarsely ground food. So coarsely ground food can be made into anything, from small hearts or bones to spherical particles.
The formed coarse ground powder is then dried to reduce moisture. At this time, it can also be coated with gravy or animal fat to taste. Once cooled, the pet food can be packaged.
Our company also has Pet Food Processing Line on sale, welcome to contact us.