With the improvement of social living standards, the 80s and even 90s, which are increasingly seeking fashion, taste, and characteristics, have gradually become the main consumer groups. Rajgira Ladoo Machine has become a trend of intelligence, high-end and large capacity.
There are various varieties of nutritious cereal bar products. According to the processing methods, raw material characteristics and product forms of the products, they can be divided into three types: baking type, package layer type, and nutrition strengthening type. The raw materials and formula ratios are different. Food Extruder Machine Supplier is here to share with you.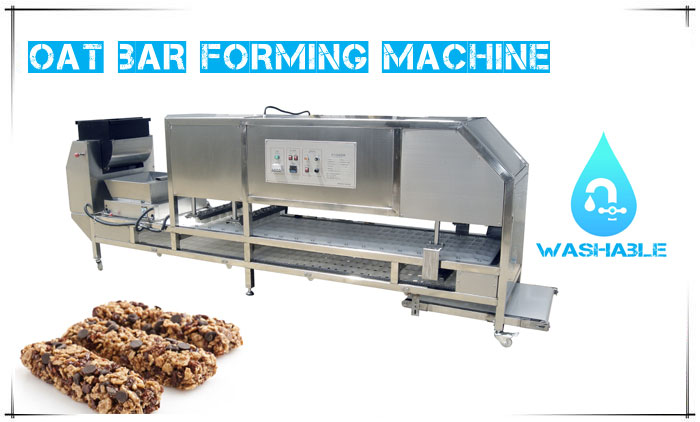 1.1 Cereal raw materials
In the formula of cereal bars, cereals usually account for 10% to 40%, mainly oats, puffed rice (rice flowers), and some products will also be added to wheat, barley, corn, buckwheat, and barley according to local raw material characteristics and eating habits. Wait for the grain. The cereal raw material is added to the cereal bar in a natural state after being baked and matured by adding a small amount of edible oil or is formed into a cereal bar by a process of extrusion, puffing or the like to form a ready-to-eat cereal piece.
1.2 Nut raw materials
Nuts are a very important ingredient in cereal bars, which can improve the taste of cereal bars, make the products sweet and delicious, and increase the nutritional value of the products. The nut raw materials in the cereal bar mainly include walnut, peanut, almond, cashew, hazelnut, etc., and the addition amount generally accounts for 10% to 30% of the total.
1.3 Oil and fat raw materials
The fats used in cereal bar products are mainly cream, margarine and the like. The addition of fats can increase the crispness of the product and improve the flavor. Grain Bar Machinery Some nutrient-enhanced grain bars contain fatty acids rich in unsaturated fatty acids, such as linseed oil. Lecithin is also added to the ingredients and is also used as an emulsifier. The amount of fat added is generally 10% to 15%.
1.4 Adhesive
It mainly uses syrup, maltodextrin, starch paste, edible gum and the like as a binder, and its function is to bond the cereal raw materials, nut granules, and other ingredients. The proportion of binder is about 30% to 40% of the total amount of the product.
Our company specializes in providing a variety of quality Rajgira Ladoo Making Machine, please feel free to contact us if you need it.